DESIGN SUPPORT
CONSULTANCY
At Synergy, we support you in every stage of your project. We fully appreciate that an HVAC system does not operate in isolation, but as the largest space and energy consuming system on board it has critical influence over almost every other onboard discipline. From the yacht's profile and sophisticated interior to the amount of technical space required and the environmental footprint, the overall design and integration of an HVAC system is intrinsic to the smooth operation of a yacht.
IDENTIFY REQUIREMENTS
An HVAC system is not a standalone product. It greatly impacts on all other systems on a yacht and consumes the most space and energy on board. That is why our primary aim is to clearly identify your needs and wishes in order to best advise you on a tailor-made HVAC system that is fully integrated, and doesn't require committing to a particular supplier.
CLASS APPROVAL
On reviewing various HVAC systems, we very often find that some systems are either over or under classified, according relevant class approval. For example, too many fire dampers, structural ducting specified when not really required, or a duct which is not gas-tight while this critical requirement was mandatory. Working on previous projects has brought to light the following:
Specifying additional valves and dampers is a waste of money and space, but not adding these features when they are mandatory, also incurs delay and extra costs.
Every yacht has its own specific design and class approval requirements to which it must comply. Whether this be the Red ensign code (LY-4, PYC), SOLAS or Lloyds etc. one has to know what is needed and what the many options are, in order to comply. With yachts becoming larger, the lack of knowledge and the struggle with PYC regulations are apparent. With years of experience, our experts are acquainted with every rule and the many options to implement these.
Synergy can take this part of your requirements and solve all your concerns. We review the whole system and upgrade the design as efficiently as is possible. We involve the surveyor at every step, so that the process will be extremely smooth and you will achieve system approval. We solve the AQP's when these are present and attend to the AQS' during delivery.
TECHNICAL SPECIFICATIONS
An HVAC system is highly complex, and hugely effects your design, comfort, fuel consumption and electrical load balance. To fully understand the technical specifications and impact of your choices, it is best to seek the expert advice of a professional who does not only have specific HVAC knowledge, but also understands your needs and requirements. Integral decisions, such as which climate or temperature to have in certain areas, and whether your equipment is ventilated properly can all be laid out by us in a tailor-made specification. We guide you through the integrators' offer and adjust it to your demands, and when the need arises to choose between multiple offers, we support you by providing fair and thorough comparisons. Our independent status gives you the advantage of seeking unbiased advice on your air conditioning, heating and ventilation systems without the risk of compromise or being tied to one particular supplier.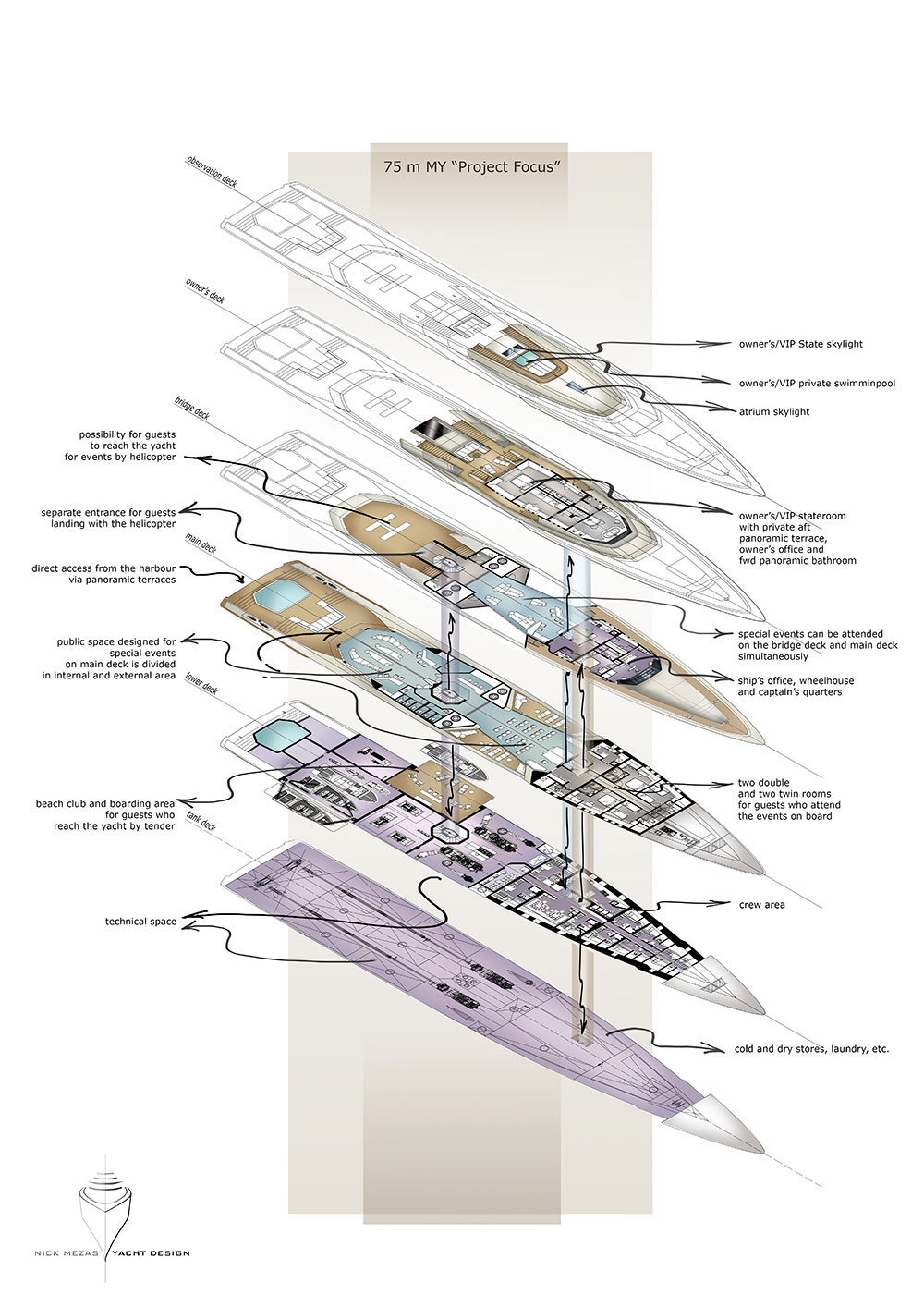 FUNCTIONAL SPECIFICATIONS
How you expect your HVAC system to work, and how it actually operates are not necessarily the same. At Synergy, we believe the system design should exceed your expectations on both quality and comfort, which is why we ensure your HVAC system is pre-determined to your specific needs and preferences. Our knowledge of the limitations and experience of the potential will eliminate any of your concerns as we guide you through the process and help you to realise your vision. With your functional specifications in mind, we can design a fully bespoke HVAC system for your yacht before you have even spoken to a shipyard or systems supplier.
GA OPTIMIZATION
Every yacht has its own unique design, and a tailored HVAC system is an integral component. We are experts at what we do, writing bespoke specifications, using the most up-to-date technologies, and guaranteeing a seamless, almost invisible integration. Our expertise even extends to reviewing the specifications and design of your new build or your system upgrade.
TENDER REVIEW
During the tender phase we serve as consultants, taking the lead to compare all HVAC offers and review their technical and functional specifications. All proposed HVAC systems need to first be made equal and then tailored to your needs and expectations. We rely on our vast years of experience and expert knowledge in these processes to guide you through this stage and advise you on key decisions. There are multiple elements and modes of performance within an HVAC system that need to be individually evaluated and considered, not to mention variable costs and proposed solutions. Our independent status stands us apart from all suppliers and enables us to provide impartial advice. At Synergy, we are driven by performance, and nothing else.